Nepal Livelihood & Agriculture Training Program
1000 people impacted
3 remote Villages affected by the earthquake
Village Livelihood Program - Sustainable Agriculture with  Kiwi and Shiitake Mushroom Farming, Beekeeping, leadership skills, womens empowerment and microenterprise cooperative for local economic development.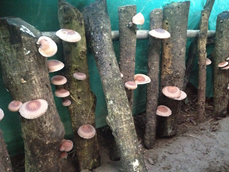 The issues:
We are working with three remote villages who are still rebuilding by the 2015 earthquake in Nepal. Done in partnership with the local Nepal Rotary Club of Rudramti, for a program on "Improving Lives of Deprived Communities in Dingam, Chipling and Thankani."
The people of Dingam, Chipling and Thakani villages are primarily dependent on traditional agriculture which barely supports them for 5 to 6 months of the year, so working adults, usually men, temporarily migrate outside the region as laborers and other low paying jobs, leaving the women and children behind to rebuild and take care of immediate needs. People need money to pay bills such as electricity, mobile phones, education and medicines. The income comes mostly through labor work which is irregular and unreliable and so insufficient.
The Plan:
A training program for growing high value products the community is interested in was developed. Shiitake Mushrooms, Kiwi farming and Beekeeping training, materials and support structure are the first projects in this larger program for creating a localized economy, to keep the families and community together and work with near-by resources and markets. Through an assessment we identified that 50% of the produce can easily be sold in local markets and the remaining 50% can be sold at the nearby markets such as the large city Kathmandu, 65 KM away. Currently, locals are purchasing mushrooms and kiwi from outside markets as they are not produced locally. There is demand, the villagers requested production locally so that they could consume themselves as well as raise their income by selling.
Timeline 2018-2019
Project Budget:
$35,000 - stage 1; Foundational agriculture training and supplies for shiitake mushroom farm, kiwi farm, beekeeping;  Leadership development; microenterprise cooperative developed between the 3 villages; womens empowerment and skill development.
$25,000 - Stage 2: Road repair
$50,000 - Stage 3: Community Center building for gathering, product and services distribution center, office space and homestay program.
Pathway to Fundraising Goal:
Completed - stage 1; raised $10,000 through crowdsourcing that was matched 2.5 times by Rotary Foundation International in 2018.
$25,000 - Stage 2 - just beginning efforts  2019
$50,000 - Stage 3 - will start fundraising after completion of stage 2 (2020)
Support this project:
Help the livelihood programs and economic security for remote villages in Nepal who were severely affected by the 2015 earthquake and just rebuilding their livelihood now. Road repair and a community center are necessary next steps to help this community thrive!